Complete Guide
Following the countless questions and inquiries that we receive regarding the export/import to Angola, we have decided to make a simple guide that any new exporter can follow and have a successful first international transaction.
Let's say you are a manufacturer from Spain, and you get in contact withan importer from Angola that wants to sell your products there.
How do you become an international exporter overnight? It's not an easy job, but after reading this article you will be better prepared.
FREIGHT FORWARDER
The first thing you need to do is to get in contact with a freight forwarder or freight forwarding company. They are companies specialized in shipping goods for other people all around the world. They will assess your situation directly, knowing how to proceed and supporting you during the process.
There are lots of freight forwarders, and you will have to choose the one that suits you more. Since you are exporting from Spain, a spanish forwarder will probably know more about the process. You should check their quotes, as well as the services offered and the customer support before hiring one.
A few attributes that you need in a freight forwarder are:
Good reputation
Enough experience
Good network of connections
Right services for your needs (documentation, logistics)
Transparent pricing structure (no surprises)
Before working with one freight forwarder, make sure to take your time to check their background. You can even contact some former clients for references about them. Do not rush deciding it, since they are a key part of the process.
REQUIRED DOCUMENTS TO EXPORT
Now let's have a look at the documents that you will need. You should check the required documents with the chamber of commerce (cámara de comercio) in Spain, but will definitely need the following:
Proforma invoice
The proforma invoice it's a document where you provide your quote, and it will be used by the importer to arrange for financing, apply for import licenses, and more. It will contain at least the following:
The buyer and seller in the transaction.
A detailed description of the goods.
The Harmonized System classification of those goods.
The price
The payment term of the sale, which would typically be expressed as one of the 11 current Incoterms.
The delivery details including how and where the goods will be delivered and how much that will cost.
The currency used in the quote
Commercial invoice
When the importer approves the proforma invoice, it's time to start preparing your goods for shipment. One of the most important documents, necessary for all kinds of shipments is the commercial invoice. It's very similar to the proforma one, including most of the details of the entire export transaction and some additions, like the order number, payment information, and even the marine insurance details if you have them.
Packing list
You will also need the packing list, a very detailed list of your products. This will be used by the freight forwarder to create the bill of lading, and it might be necessary also for the customs officials.
Certificate of origin
The certificate of origin identifies the country of origin of the goods that are being exported. Usually, you will need a stamp from the chamber of commerce of the country, for which you will need to pay some fee.
Documento Único
The DU document or Documento Unico is an Import Licence in Angola.
The Documento Unico or the Import Licence is exempt if a shipment will be cleared, at the destination, under Temporary Regime. Another instance where the DU is not an obligation is when the total FOB value is below 5000 USD.
Angolan loading certificate (CNCA)
The CNCA is a required certificate by Angola, also known as CTN or BESC. You will need the following documents to acquire it:
Bill of lading
Commercial invoice
Freight invoice
Documento Único
We strongly recommend you to apply for CNCA as soon as you have the required documentation, since it's a mandatory certificate and you will face huge fines and delays if you don't have it validated at least 5 days before your cargo arrives at the port. The process to apply is simple and easy if you do it through GetCTN, just sending the documents.
Shipper's letter of instruction
The SLI contains all the information needed to move the goods, including who is responsible of the documentation, who to contact for questions, delays…etc
You must provide it to your freight forwarder, and it might be necessary to also include a Power of Attorney giving them power over your goods.
Your freight forwarder will be in responsible of the following documents:
Delivery notes
Forwarders Cargo Receipt
Shipping instructions for the Bill of lading
Marine insurance
Cargo inspection certificates
The shipping line or carrier will provide the rest of the required documents:
Bill of lading
Manifest
Freight invoice
Loading list
Stowage plans
Properly speaking, the only documents you will need to export your goods to Angola are the ones mentioned in this article, but to get them you must have all the previously mentioned.
Apart from all of these documents, you will also need specific certificates depending on what you are exporting (dangerous goods, quality certificate…)
Other things that you should keep in mind:
Incoterm
The incoterm is a 3 letters code that establishes the rules of the transaction accepted by both the exporter and the importer. While with some incoterms, exporters are responsible for the whole shipment process, with some, the exporter has to do nothing but prepare their cargo at their facilities. You need to define:
The responsibility of the shipment
Who is responsible of the maritime transport
When the importer starts being responsible of the cargo
Thus, you should be aware of the various incoterms and which one to choose when exporting to avoid additional charges that you don't expect. For example, while CIF (Cost Insurance Freight) or CFR (Cost and Freight) might be the safest and the least risky ones, EXW (Ex Works) or FOB (Free on Board) would be the cheaper and riskier options.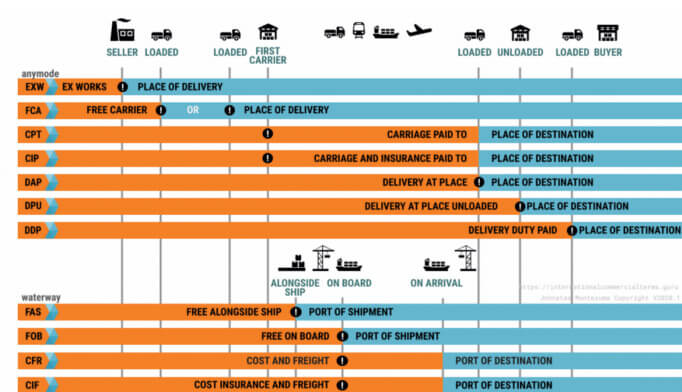 We would suggest that you don't take any chances and use CFR or CIF. But if you really want to save money EXW and FOB are not that bad of options. You must check this with your freight forwarder as they may have a close incoterm in their contract.
Marine insurance
You should check with your freight forwarder, but usually there is no insurance included. The good side of it is that marine insurance is not expensive, being around 1% of the total value of the cargo. They will cover any damage to your goods, according to the policy that you acquire.
We recommend you to hire an insurance depending on your cargo and its value, but keep in mind that transporters can't control weather hazards, an encounter with pirates, and other conflicts that can damage your cargo. You may find more information about how to choose marine insurance here.
Inspection of the cargo
The importer may require an inspection of the goods from SGS, Intertek or another inspection agency, making sure that he is buying the quality products that he is looking for. They will generate a certificate approving the cargo, and it must be enclosed with the other shipping documents.
Logistics
You should also keep in mind the logistics of the shipment. For example, if your cargo is not enough to fill a full container (FCL, full container load) and you are going to use a LCL (less than container load), you can contact another exporter to use the same container, since a FCL is usually cheaper and you can share expenses. Your freight forwarder may help you with this also.
As we said, you must check with your chamber of commerce before starting a project like this, but once you have all the documents clear the process will go smoothly.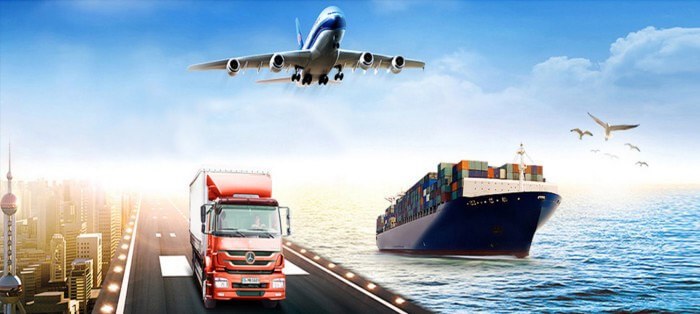 Transit period
This is also an important matter. Depending on how quickly you want to send your cargo, you have several options. First of all you should choose your departure port. This requires some logistics, since you should choose the port valuing the distance from your warehouse, the inland transit time, and other situations.
The most important ports in Spain are the following, where you can find carriers go
ing to Angola regularly, at least once a week:
Valencia: Most important port in the mediterranean sea. You have different options to ship from this port, with an estimated transit time of 22 days. The main route destination is Luanda, and the principal carriers are:
CMA CGM
Hapag-Lloyd
Maersk
MOL
MSC
ZIM
There is not a direct route from Valencia to Angola, and you will be able to choose how many transits stops you would like to have depending on your urgency and your budget.
Algeciras: Our recommendation if you are shipping from the peninsula. The main destination is Lobito port, and it will take from 14 to 19 days to get there. The principal shipping line are:
Las Palmas: If you are lucky enough to manufacture your goods from Las Palmas, you will save some time and money with the shipment. You can get your goods to your destination port in Angola in an estimated time of 13–16 days. The principal carriers are the following:
You can always use this website to check the estimated transit time for the chosen port, as well as the shipping line, estimated cost and more interesting information.
Usually, the freight forwarder will include the inland transport of your goods to the port, so you will get the best quotes from them.
You need to know that this is an estimated transit time, and your cargo may have delays in several parts of the process. It needs to pass the controls at the customs border, transfers between ships if there are… so you should be aware that it will probably take more time.
CONCLUSION
We have had a look at the main options and documentation that you will need to have to start exporting. You can apply this to any country where you want to export with minimum changes.
A good summary of what you need to take care of would be:
Get in contact with a freight forwarder and with the chamber of commerce
Gather all the required documents
Choose an Incoterm
Hire a marine insurance
Take care of the logistics of the shipment
Remember, get in contact with experienced companies that know how to deal with all kinds of cargoes, and don't hesitate to ask them anything. From this point you can do your own research and begin with your export project. Good luck!