Libya Certificate of Inspection (COI)
We also have many exporters regularly obtaining ECTN from us. Our exceptional team is ready to support exporters and freight forwarders in
Germany 24/7. Contact us now for a Free Consultation.

Kyle Hallner
CTN Operations Manager – Contact Us
By submitting my data I agree to be contacted
Here are some of the companies we work with
We've provided the CTN certificate for over 20 countries to clients worldwide since 2005.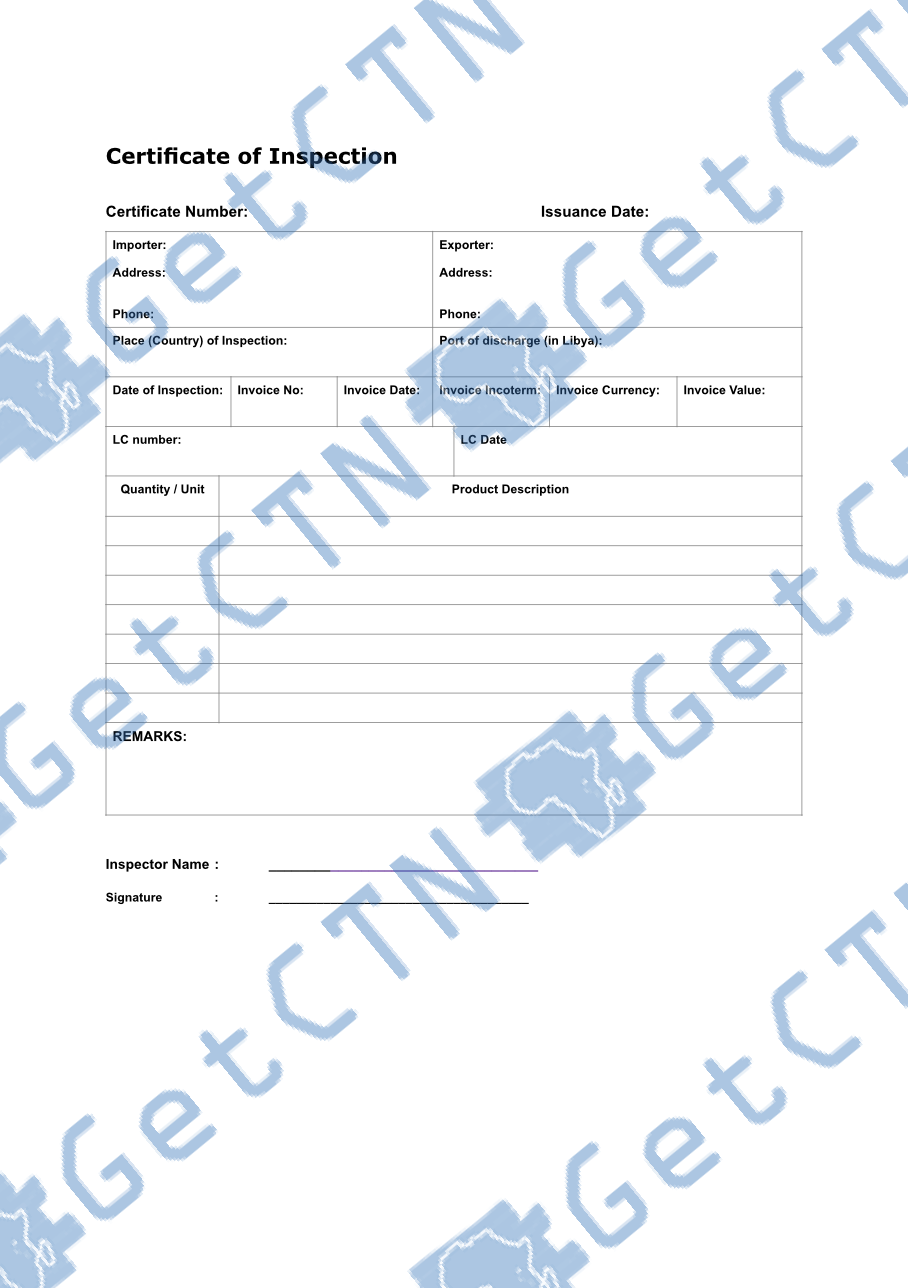 What is a Certificate of Inspection (COI)?
The pre-shipment inspection is one of the most important phases in exporting goods internationally. Due to the extensive worldwide commerce of goods, it is important to uphold and adhere to specific safety and quality standards (in accordance with importer requirements) of the importing country. A Certificate of Inspection (COI) also known as a Certificate of Conformity (COC) is required to attest that a certain set of products has been examined and that it complies with all shipping requirements, including those related to quality, weight, and packing.
On April 30, 2015, the Central Bank of Libya issued Resolution N° 96, mandating the submission of a "Certificate of Inspection" for all imports entering Libya. Which is why, in accordance with legislative regulations, such as those outlined in "Letters of Credit," all exporters must obtain an inspection certificate before shipping goods to Libya.
Procedure
During the document control process, the RFC (Request For Certification) Application Form and Declaration of Conformity completed by the exporting company must be submitted with a stamp and signature.
Description details of the products and the price of the documents, which are arranged by the exporting company in English, the requirement to include a Proforma invoice containing international trade terms is sought.
Product test reports and ISO 9001 etc. quality certificates, Letter of Credit (L/C) and contract text, Technical Datasheet, Catalog, and Brochures, if any, must also be sent in English.
The inspection process starts after we are informed about the inspection request at least 3 business days in advance and all documents are sent to us in full. Approval from our Head Office is required before loading after inspection. After the submission of your final documents (Commercial Invoice, B/L) and paying, the draft certificate is also prepared.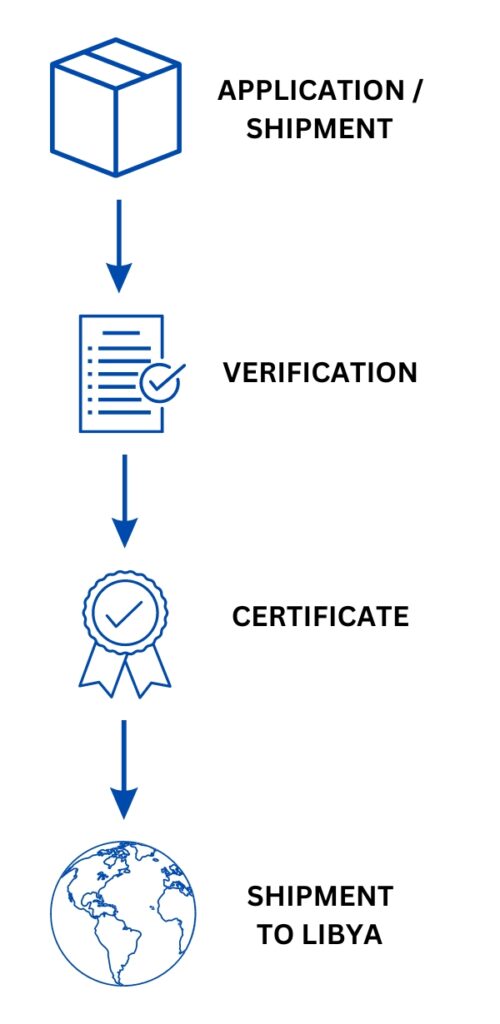 Requirements
To apply for the Certificate of Inspection, you need to provide the following information:
Letter of credit

Proforma/Final invoice

Certificate of origin

Health certificate for food (if available/applicable)
Pre-Export Verification of Conformity (PVOC) Process
Step 1: ​​Application
Step 2: Documentation
Step 3: Inspection
Step 4: Certificate Issuance 
Step 1: Request for Certificate
Importer / Exporter lodges a Request for Certificate. Said request should include: 
List, identification of the items planned for export, and information on the importer and exporter (name, address, invoice, …)

Documents of conformity are provided (ex: Third party test reports according to Libyan standards or international when there is no applicable Libyan standard)

Copy of the Letter of Credit (if any)

Details on the provisional and local availability dates for the items so that their physical examination may be done before shipping. (Complete the Request for Certificate (RFC) Form.)
Step 2: Documentary review / Testing
Reviewing each piece of information and, if necessary, comparing it to Libyan standards and Letter of Credit inspection criteria, we determine whether it is enough. If required, samples are subjected to testing or analysis at a laboratory.
Step 3: Inspection
Prior to export, we inspect the consignment to:
Check Products against Libyan standards

Check consignment against details identified during the documentary review

Identify the inclusion of goods listed as prohibited

If necessary, take samples for additional assessment

Depending on LC requirements and the nature of the goods, witness the loading and seals the containers
Step 4: Certificate of Inspection
If the results are satisfactory, a Certificate of Inspection is given; if not, a Non-Conformity Report is generated. It is advised for exporters not to send their goods until the necessary Certificate has been issued.
Technical Requirement
Conformity requirements:
Compliance of goods with 
shipment declaration (invoice, packing list) and 

applicable Libyan standard for goods also subject to the ARN (international




standard in absence of a Libyan standard) and 

L/C requirements 
Testing performed by a laboratory recognized by ILAC under ISO/IEC 17025 is required to prove compliance with standards.
National deviations:
In accordance with the Libyan standard that is relevant to each product covered by ARN regulation.

Adhere to the Islamic Sharia law. As such pork, alcohol, and their kinds are prohibited, same as the following food additives: 
E102, E103, E104 , E107, E120, E121, E122, E123, E125, E126, E128, E130, E131, E142, E171, E151, E152, E153, E154, E155, E174, E175, E164, E165, E166, E173, E182, E181, E180
Labeling requirements: 
Language: 
The labels and instructions required by the relevant Libyan standards for items subject to ARN must be at least in Arabic.

Markings and instructions that are needed by international standards for items covered by the letter of credit must be at least in Arabic or English.
FAQs related to Libya COI
Is a Certificate of Inspection required?
Indeed, the Certificate of Inspection is a condition of the LC that must be fulfilled.
What are the benefits of a Certificate of Inspection?
It verifies that the items are in accordance with the terms of the contract, protecting importers from obtaining deficient or incorrect goods.

Before packaging and shipping products, exporters may monitor the production process and make any necessary corrections in order to prevent product rejection when it comes time for inspection.

Exporters may ensure prompt delivery and receipt of goods to the target country by learning about manufacturing timelines.
Is a Letter of Credit mandatory for exports to Libya?
Absolutely, because collection against documents has been temporarily halted, all export transactions, whether in the public or private sector, must be done so under a letter of credit.
What is the scope of the inspection?
The inspection typically gives a quantity check, either 100% or sample check, as well as a visual quality/condition check. If necessary, it may also accommodate the sealing of containers and the witnessing of loading. This can vary based on the LG's requirements.
Which products require a COI?
Any product exported to Libya require a COI. Additional conformity requirement for the following products identified in the ARN 2020/68
Foods & Feeds 

Children's toys

Cooking Utensils

Vehicle tires 

Vehicle oils 

Cooking gas cylinders 

Medical supplies 

PPE supplies, especially those related to Corona pandemic such as gloves, gags, face masks,. 

Alcohol and Sterilizers 

Fertilizers and pesticides 

Cosmetics and aromatic scents 

Shampoo, soap and hair dyes 

Toothpaste and shaving Cream 

Fabrics and clothing, especially children's clothing 

Shoes 

Notebooks, books, and school supplies 

Manual and automatic washing power and detergents 

Paints and Air freshener 

Batteries
Which products are banned from entering Libya?
Ministry of Economy and Trade decision number "359 of 2021": 
Live pigs 

Pork meats, fat, hides, and all their derivatives, or any products containing pork fat

Food products containing pork, its derivatives, including food additives Alcoholic drinks of all kinds (wines…) 

Food products containing alcohol 

Frozen & Chilled Livers, Frozen offal, Frozen intestines.

Marine dredgers

Baking improvers containing potassium bromate 

Preserved and canned meats, and foods prepared from animal fats for the purpose of human consumption, except those slaughtered and prepared according to the edicts of Islamic Shari'a Law 

Repackaged tomato that is not complying with the Libyan National Standard

Live poultry (Chicken – Turkey) for slaughter 

Vehicle older than 10 years 

Incandescent (tungsten) light bulbs (non-energy saving)

Car window tinting material

Used empty barrels

Traditional Libyan Dress (abbayas, cloak, etc.) 
Decree No. 18/2011 National Transitional Council Executive Office Department of Economic Affairs:
All dairy products manufactured in the People's Republic of China as well as all dairy products manufactured in other countries in which milk originated from China is used. 
Transitional Libyan government/ Bureau of the Ministry of Economy decision number 377,1,5 issued in 2012:
Medicines, live animals and birds, pesticides, frozen and chilled fish and meat shipped through Land port of entries in Libya 
Ministry of Economy and Trade decision number "258 of 2021":
Potassium Bromate (E924 or E924a), "Chemical name (KBrO3)" 
Ministry of Economy and Trade decision number "541" of 2022":
Gun toys with beads/arrows for kids 
Ministry of Economy and Trade decision number "918" of 2022:
How long does the process take?
The volume of the cargo and the range specified by the client/LC will determine this. The physical examination might take anything from half a day to a week. Normally, the certificate is given out 2-3 days after the inspection.
How much does the certification cost?
This depends on how long it takes to complete the inspection to the specified scope; as a result, each inspection is priced separately.
Please note that to receive a quote you will need to have at least the following export documents ready:
Request for Certification – RFC 

Pro forma or commercial invoice
What are the details mentioned in a Certificate of Inspection?
Here are some of the common details mentioned in a standard Certificate of Inspection:
Inspection date

Place of inspection

Purchase order number

Contact details of importer

Country of origin

Product description

Number of units

Number and date of pro forma invoice

Insurance policy number (if any)

Number and date of Bill of Lading

Gross weight

Port of discharge

Contact details of supplier

Code number of custom tariff

Type of packing

Place of issue

Name and signature of the authorized person
Which other countries require the Certificate of Conformity (COC)?
Algeria

Botswana

Congo

Côte d'Ivoire

DR of Congo

Egypt

Ecuador

Ethiopia

Gabon

GCC

Ghana

Indonesia

Iraq

Kenya

Kuwait

Lebanon

Liberia

Libya

Mali

Mauritania

Morocco

Nigeria SONCAP

Pakistan

Philippines

Saudi Arabia

Tanzania / Zanzibar

Togo

UAE – MoIAT

Zimbabwe
What is GetCTN?
GetCTN is an independent consulting firm to help you to get the necessary CTN certificates to many African Countries. GetCTN is an international company that is based in USA and UAE.
What is Bill of Lading
A bill of lading (BL or BoL) is a legal document issued by a carrier to a shipper that details the type, quantity, and destination of the goods being carried.