BESC Notice Benin
We would like to bring to the attention of all;
Exporters
İmporters
Carriers
Consignees
Freight forwarders
Cargo handlers
And all other readers of whom have and likely to use the Port of Cotonou to discharge or for the transit of goods, that initiated the Electronic Cargo Tracking Note (ECTN) in Benin has become compulsory for all types of seaborne Cargo.
Announcement By National Shippers Council Of Benin (CNCB)
Although the requirement of Electronic Cargo Tracking Note has been advised with the application of the decree N°030/MIT/DC/SGM/CTJ/SA/034SGG18 of the 26th of June, 2018.
it was neglected by all stakeholders of the substantial number of Benin imports.
In spite of the numerous messages sent by the office of National Shippers' Council of Benin to ensure that all parties are aware, a certain number of shippers' continue to unload goods without an ECTN issued at the Port of Loading, leading to complications in stevedoring and port management, as well as hefty penalty for all parties involved.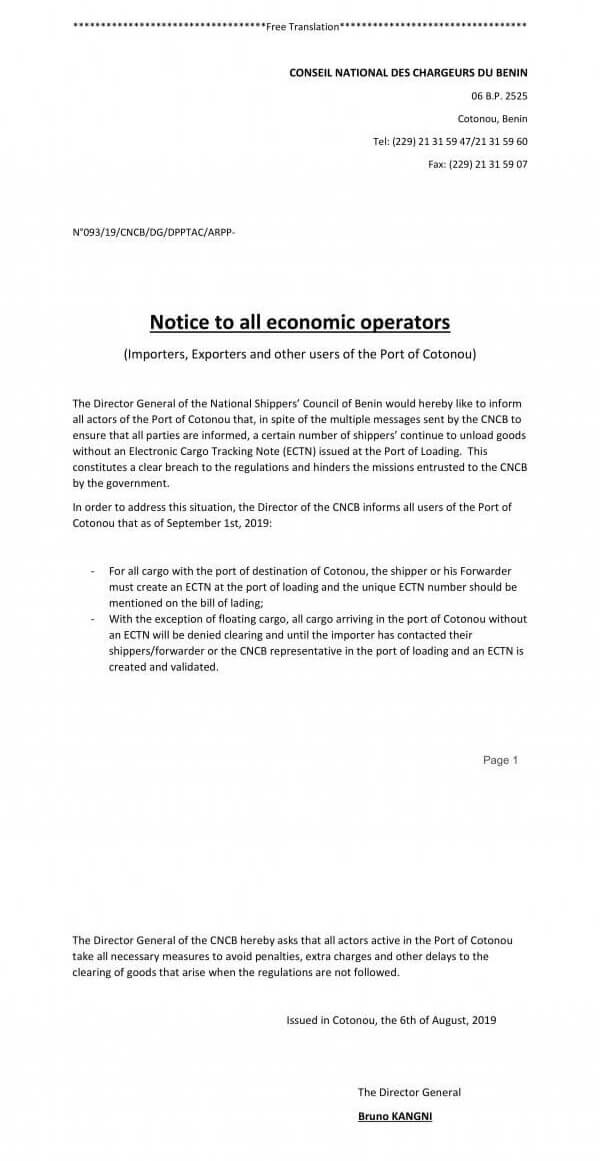 Why the BESC Circular was disclosed now?
Since we are a global provider of ECTN for a number of countries and in a way representing the valuable Exporters & Freight Forwarders, it is also our duty that you are informed about the latest BESC Notice.
In order to address the situation, declares the statement form CNCB, the Director General of the National Shippers' Council of Benin had released a statement informing the Port of Cotonou that as of September 1st, 2019:
For all cargo with the port of destination of Cotonou, the shipper or his Forwarder must create an ECTN at the port of loading and the unique ECTN number should be mentioned on the bill of lading;
With the exception of floating cargo, all cargo arriving in the port of Cotonou without an ECTN will be denied clearing and until the importer has contacted their shippers/forwarder or the CNCB representative in the port of loading and an ECTN is created and validated.
Whether you are planning a cargo or have an active shipment moving to Benin you must get in touch with one of our agents immediately. Be advised that you will not be able to clear your cargo without Validated ECTN number.
The details of ECTN application and other important announcements are found and Benin BESC can be obtained through the link.