Cameroon Besc
BESC is a mandatory document for all ports in Cameroon
We also have many exporters regularly obtaining BESC for Cameroon from us. Our exceptional team is ready to support exporters and freight forwarders in
United States 24/7. Contact us now for a Free Consultation.

Kyle Hallner
CTN Operations Manager – Contact Us
By submitting my data I agree to be contacted
Here are some of the companies we work with
We've provided the CTN certificate for over 20 countries to clients worldwide since 2005.
What is BESC?
BESC is a mandatory loading document for all shipments to Cameroon. It is required for Douala, Kribi, Limbe or any other port. It is also known as CTN and BSC. It was determined as a regulation in 2006 by Cameroon Customs Officials. 
Failing to present the BESC document will lead to severe consequences and a hefty fine.
Procedure
According to this law, every cargo purchased from abroad and transported for commercial, business, in some cases, diplomatic and personal purposes require a Loading Certificate called BESC – Bordereau Électronique de Suivi des Cargaisons.
The shipper or the freight forwarder is responsible for acquiring the BESC waiver certificate from the authorized representative.
Requirements
Bill of Lading – A draft copy can be used for the draft.
Commercial Invoice
Freight Invoice – It is necessary if the freight cost isn't on the commercial invoice.
Import Declaration – The Importer has to provide it. PR Number and Tax Payer's ID of the importer are enough to proceed.
Sample Cameroon BESC Certificate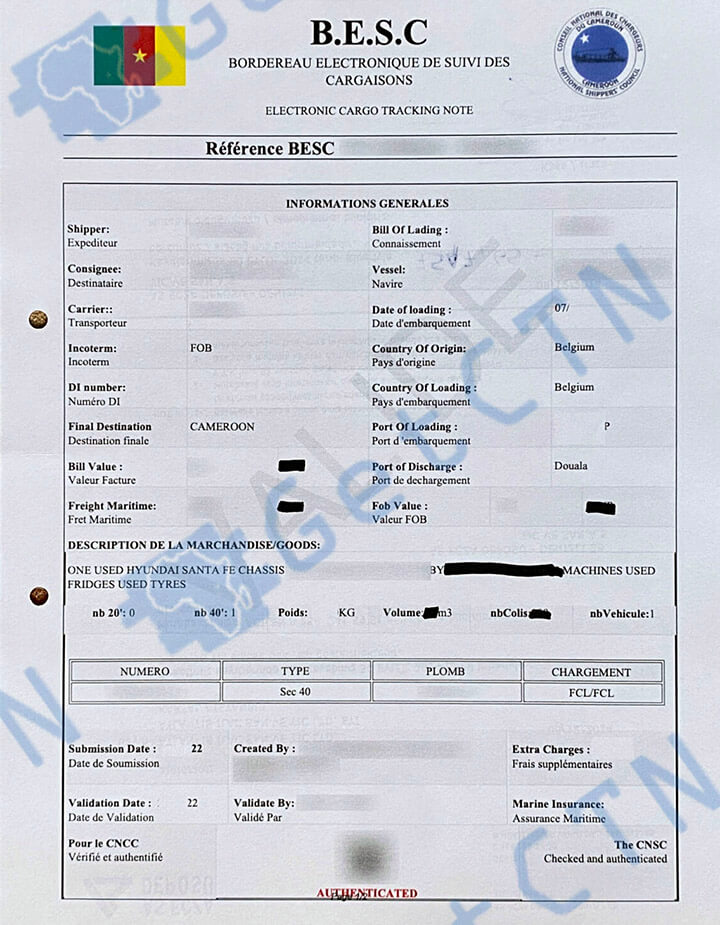 Regulations
According to Cameroon Customs regulations, all cargo to Cameroon must be accompanied by a BESC certificate.
The BESC certificate must be validated five days before the vessel arrives.
Shipments that arrive without BESC or with false information on the BESC get charged twice the certificate cost plus the regulation charge determined by the Cameroon National Port Officials.
Cameroon BESC Regulations
INSTRUCTIONS for the Cameroon BESC certificate are as follows:
ECTN (BESC) must be presented to the CNSC (Cameroon National Shippers Council) within 5 days after the departure and 5 days before the vessel arrives at the port.
Shipping or arrival without BESC or false information in ECTN results in a fine of an amount equivalent to the cost of the BESC plus the regularisation charge determined by CNSC.

Cameroon BESC Regulations
FAQs related to Cameroon BESC Certificate
What is BESC?
BESC stands for Bordereau Électronique de Suivi de Cargaisonis. It is a waiver document that is required at certain African ports.
Do I need to get BESC if my shipment is in transit through Cameroon to Chad?
A shipment going to Chad as a final destination in transit through Cameroon only needs to get an ECTN certificate for Chad
Why is the SGS number not on the validated Cameroon BESC Certificate?
Even if the SGS number is entered into the application, the number is not printed on the validated BESC certificate. This is not wrong or right; it is just how Cameroon authorities formatted the BESC. You can check the draft certificate to see if the right SGS number is entered.
Can I make amendments to a validated Cameroon waiver document?
Yes, Even after validated, the Cameroon BESC certificate can be corrected.
How to apply for a BESC certificate for Air shipment to Cameroon?
You need to get a waiver document for Air shipment to Cameroon. But the application is filled only upon arrival. So this is the only kind of waiver you can apply upon arrival.
BES - C1701xxx in the file, I read 4 x 40 DV, but in BL, I read 3 x 40 OT+ 1 x 40 DV … is it an issue?
There is no OT container option on the BESC system. Therefore, we can only mention it as a DV container.
Can I use the same BESC number for various shipments?
No, BESC is unique and reserved only for one shipment. Every shipment must have a validated BESC number.
Is it mandatory to mention the Cameroon BESC number on the Bill of Lading?
Is it mandatory to mention the Cameroon BESC number on the Bill of Lading?
What is GetCTN?
GetCTN is an independent consulting firm that helps clients obtain CTN certificates in many African countries. It is an international company with offices in the USA, UK, and UAE, and its sole business is CTN certification; it is not a freight forwarder, importer, or exporter.
How do you ship the hard copy of the certificate?
The hard copy of the certificate isn't necessary at all. Instead, the whole process is completed online.
What is a Bill of Lading
A bill of lading (BL or BoL) is a legal document issued by a carrier to a shipper that details the type, quantity, and destination of the goods being carried.
What is Commercial Invoice?
A commercial invoice is a required document for the export and import clearance process. It is sometimes used for foreign exchange purposes. In the buyer's country, it is the document their customs officials use to assess import duties and taxes.